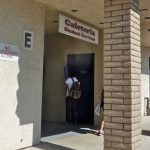 University and School Movers in Denver, Colorado
In order to successfully move school or university furnishings, you need the right moving company with years of expertise. If you are moving to a new building, we'll take care of it.
If you're renovating your current facility and need to move supplies out and back in, we'll take care of it. We can move everything you need to another location in no time at all.
Metro Moving & Storage is your first choice for school and university movers in Denver, Colorado.
University or college changing buildings? We can move your valuable assets to its correct destination with no hassle to you. We have over 45 years of experience in the moving and storage industry.
With our expertise, we will make any school move in the Denver area as easy and as stress-free as possible. We are your first choice for university storage and movers in Colorado.
Top Quality School and University Movers
Any college office and classroom move can be difficult. Not only for the students themselves but the school faculty and office space as well. Rearranging your current school layout at a new location can be stressful.
We strive to ease some tension by providing expert customer service. We provide a top of the line moving team to help you move your assets out of their current location.
Moving school supplies and furniture is a specialty service that many movers aren't equipped to handle. The move requires a diverse set of skills and equipment to be done correctly.
Some university moving plans require the transportation of an entire library, delicate lab equipment, or the relocation of an entire office. Items in dorm rooms may need to be moved as well. Metro Moving & Storage can take care of this. We are your local moving company in Denver, CO.
Our trained university and school movers have the knowledge to get the job done right. If you need dorm room movers, no problem. Our techniques are top of the line.
We utilize this knowledge and expertise to pack and move everything for you. Downtime is kept at a minimum with little to no risks for your assets.
School Facility Moving Services
Metro Moving & Storage are expert college movers in Denver, Colorado for a reason. We have tons of years of experience in the moving field and have moved several colleges in Denver. We move furniture as quickly as possible, so that you can be on your way to setting up your new school. As a full-service company in the moving industry, there is nothing we can't do for you.
Some of our school and university moving services include:
Move planning
Furniture moving and installation
Packing and unpacking services
Long and short-term storage options
Debris removal
Computer lab relocation
Library relocation
Move Your Faculty Offices with a Professional School Moving Company
Our experience speaks for itself when it comes to school and university moving services. The next time you're in need of a specialty mover in the Denver area, call Metro Moving & Storage. Let us take the heavy lifting off your back.
If you need additional information about our school moving services, call us at (303) 798-9313 or fill out our contact form.