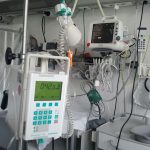 Medical Equipment Moving Services in Denver, Colorado
Moving your medical center or doctor's office equipment successfully takes proper planning. The help of Metro's medical office movers will alleviate a lot of the stress put on you during this time. We have the industry know-how and are experts in this field.
Metro Moving & Storage has more than 45 years of experience moving medical centers and doctor's offices in the Denver area. Our mission is to carry out your office move with extreme care and precision. We are the best among the rest of the medical office moving companies in Denver, Colorado.
Medical Equipment Movers
Our moving crew in the Denver area is experienced in the careful transportation of sensitive medical equipment. We understand that the specialized equipment you are looking to move is incredibly valuable. The medical equipment we have experience in moving include:
Imaging Machines
Hospital Beds
Lab and Medical Equipment
Ultrasound Machines
Our custom move plans are tailored to your specific needs. All our medical moving services are designed to ensure a safe and timely delivery of your valuable assets. The loading and unloading processes we have in place are incredibly safe. Our equipment and machines are imperative to the success of your move.
We want to make sure the moving of your office is efficient and affordable. Plus, our customer service is top of the line and you can call us with any questions you may have throughout the process. So, trust your medical center or doctor's office move to the local experts in Denver: Metro Moving & Storage.
Medical Equipment Moving Company in Denver, Colorado
We know how time critical it is for your medical practice to get up and running again. Metro is a trusted medical center and doctor's office moving expert in the Denver area. That's why we pride ourselves on our planning ability and efficiency.
We utilize professional moving processes that are fast and efficient, without ever sacrificing quality. We also have climate controlled storage facilities to store your equipment when needed to complete complex moves.
Our highly trained medical center and doctor's office movers will help you with:
Packing and moving a wide variety of medical equipment/machines, including X-ray machines, MRIs, dialysis machines, and more
Packing and moving dental equipment and tools
Disassembly and reassembly of office furniture
Long and short-term warehouse storage
Medical document and record storage
Move Your Medical Office Space Today
When it comes to moving medical office spaces, our experience speaks for itself. The next time you're in need of moving your practice, call Metro Moving & Storage
Do you have any questions regarding our medical center and office moving services? If you do, please call us toll-free at (303) 798-9313. You can also fill out our online quote form for a free estimate.